Our District
August 1, 2022
New CHS/CMS Principal
Kimberly Olson has been named Principal of Clawson Middle and High Schools...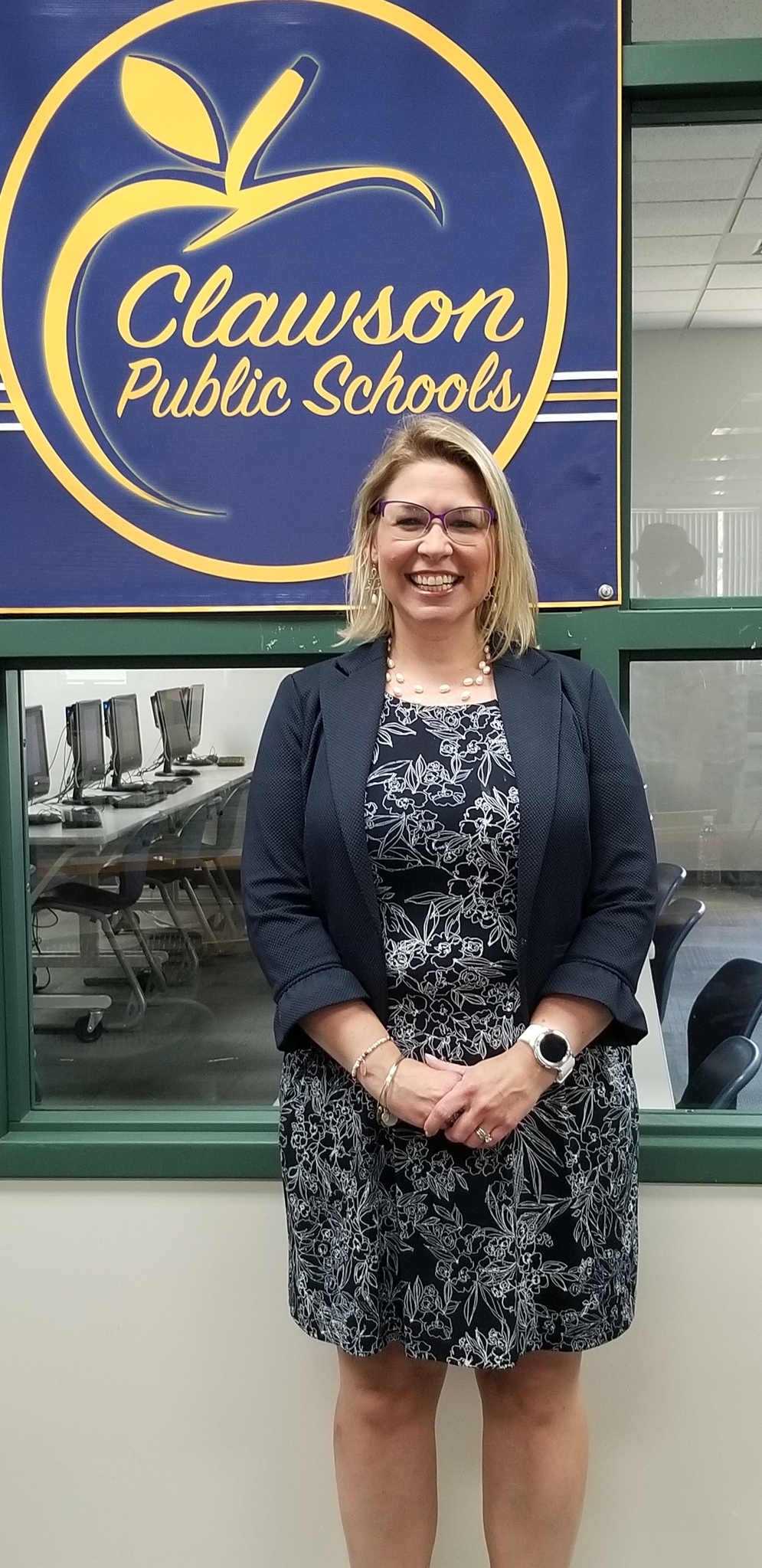 August 1, 2022
New Superintendent Billy Shellenbarger
Billy Shellenbarger, Principal of Clawson High School and Middle School, has been chosen to be Clawson Public School's new superintendent... 
Welcome
Mission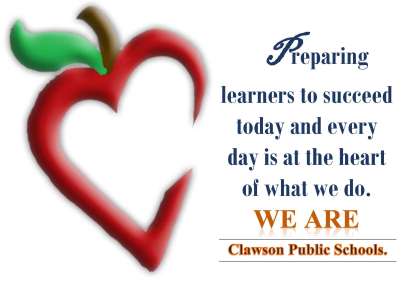 2023-2024 School of Choice
For information, please contact Jill LaPine at 248.655.4417 or jill.lapine@clawsonschools.org
2022-2023 DK - 12th-grade Registration Process for Clawson Residents.
Click here for a list of the required documents needed for enrollment.

FOIA Requests
Please email FOIA Requests to: Linda Gould, FOIA Coordinator
Calendar

Previous

January

2023

Next

S
M
T
W
T
F
S
1

Jan 1

CASA Winter Break

Calendar:

High School Calendar

NO SCHOOL - Winter Recess

Calendar:

Schalm Calendar

NO SCHOOL- Holiday Break

Calendar:

Childcare Center

OSTC Winter Break

Calendar:

High School Calendar

2

Jan 2

CASA Winter Break

Calendar:

High School Calendar

NO SCHOOL - Winter Recess

Calendar:

Schalm Calendar

NO SCHOOL- Holiday Break

Calendar:

Childcare Center

OSTC Winter Break

Calendar:

High School Calendar

No School Students/Staff-Winter Break

Calendar:

High School Calendar

3

Jan 3

CASA Winter Break

Calendar:

High School Calendar

NO SCHOOL - Winter Recess

Calendar:

Schalm Calendar

NO SCHOOL- Holiday Break

Calendar:

Childcare Center

OSTC Winter Break

Calendar:

High School Calendar

No School Students/Staff-Winter Break

Calendar:

High School Calendar

4

Jan 4

CASA Winter Break

Calendar:

High School Calendar

NO SCHOOL - Winter Recess

Calendar:

Schalm Calendar

NO SCHOOL- Holiday Break

Calendar:

Childcare Center

OSTC Winter Break

Calendar:

High School Calendar

No School Students/Staff-Winter Break

Calendar:

High School Calendar

5

Jan 5

CASA Winter Break

Calendar:

High School Calendar

NO SCHOOL - Winter Recess

Calendar:

Schalm Calendar

NO SCHOOL- Holiday Break

Calendar:

Childcare Center

OSTC Winter Break

Calendar:

High School Calendar

No School Students/Staff-Winter Break

Calendar:

High School Calendar

6

Jan 6

CASA Winter Break

Calendar:

High School Calendar

NO SCHOOL - Winter Recess

Calendar:

Schalm Calendar

NO SCHOOL- Holiday Break

Calendar:

Childcare Center

OSTC Winter Break

Calendar:

High School Calendar

No School Students/Staff-Winter Break

Calendar:

High School Calendar

7
8
9

Jan 9

CASA Classes Resume

Calendar:

High School Calendar

CPS Classes Resume

Calendar:

High School Calendar

School Resumes

Calendar:

Schalm Calendar

3:00 PM to 5:00 PM

Matilda Play Practice

Calendar:

High School Calendar

6:00 PM to 8:00 PM

Robotics Club Mtg

Calendar:

High School Calendar

7:00 PM to 9:00 PM

Athletic Booster Mtg

Calendar:

High School Calendar

7:00 PM to 9:00 PM

Board Workshop-cancelled

Calendar:

High School Calendar

10

Jan 10

10:45 AM to 12:30 PM

Military Lunchroom Visits

Calendar:

High School Calendar

Hello,

Please feel free to

arrive at 10:45

to set up for A Lunch at 10:52.  You are welcome to stay through B Lunch, which

ends at 12:26

.

Please check in with the main office.  

After check in, 

I will escort you to our lunchroom/Trojan Hall where you may set up a table with literature, etc. that you wish to share with students.

CHS administration kindly asks that you do not approach students.  Please remain at your display table and allow interested students to approach you.  Thank you in advance for your understanding.

We look forward to your visit!

Kendra Duncan

Clawson Counseling

3:00 PM to 5:00 PM

Matilda Play Practice

Calendar:

High School Calendar

6:00 PM to 8:00 PM

Robotics Club Mtg

Calendar:

High School Calendar

11

Jan 11

Seminar Day

Calendar:

High School Calendar

TLC Mtg/Seminar

Calendar:

High School Calendar

9:45 AM to 10:15 AM

TLC Mtg/Seminar

Calendar:

High School Calendar

9:45 AM to 10:45 AM

Women of Tomorrow Mtg

Calendar:

High School Calendar

3:00 PM to 5:00 PM

Matilda Play Practice

Calendar:

High School Calendar

6:00 PM to 8:00 PM

Robotics Club Mtg

Calendar:

High School Calendar

12

Jan 12

3:00 PM to 5:00 PM

Matilda Play Practice

Calendar:

High School Calendar

6:00 PM to 8:00 PM

Robotics Club Mtg

Calendar:

High School Calendar

13

Jan 13

3:00 PM to 5:00 PM

Matilda Play Practice

Calendar:

High School Calendar

14

Jan 14

10:00 AM to 4:00 PM

Robotics Club Mtg

Calendar:

High School Calendar

15

Jan 15

5:00 PM to 9:00 PM

rescheduled-NHS Dodge Ball Tournament

Calendar:

High School Calendar

16

Jan 16

CASA-No School MLK Day

Calendar:

High School Calendar

NO SCHOOL FOR Students - MLK Day

Calendar:

Schalm Calendar

Professional Development Day for Teachers

No School for Students/Teacher PD

Calendar:

High School Calendar

OSTC-No School MLK Day

Calendar:

High School Calendar

TLC Mtg-get bagels/donuts/juice

Calendar:

High School Calendar

10:00 AM to 12:00 PM

TLC Mtg

Calendar:

High School Calendar

6:00 PM to 8:00 PM

Robotics Club Mtg

Calendar:

High School Calendar

17

Jan 17

3:00 PM to 5:00 PM

Matilda Play Practice

Calendar:

High School Calendar

6:00 PM to 8:00 PM

Robotics Club Mtg

Calendar:

High School Calendar

18

Jan 18

Seminar Day

Calendar:

High School Calendar

CASA Exams

Calendar:

High School Calendar

9:45 AM to 10:45 AM

OSTC Presentation/Seminar

Calendar:

High School Calendar

3:00 PM to 5:00 PM

Matilda Play Practice

Calendar:

High School Calendar

5:15 PM to 6:15 PM

PTSA Mtg

Calendar:

High School Calendar

6:00 PM to 8:00 PM

Robotics Club Mtg

Calendar:

High School Calendar

7:00 PM to 9:00 PM

Performing Arts Booster Mtg

Calendar:

High School Calendar

19

Jan 19

CASA Exams

Calendar:

High School Calendar

HALF DAY ALL Students

Calendar:

Schalm Calendar

HALF DAY AM for HS/MS - Exams in AM, Dismissal at 11:30AM

HALF DAY DK-5, Dismissal at 11:25AM

1/2 Day for Students-Exams-11:30am dismissal

Calendar:

High School Calendar

12:00 PM to 2:00 PM

Matilda Play Practice

Calendar:

High School Calendar

6:00 PM to 8:00 PM

Robotics Club Mtg

Calendar:

High School Calendar

6:30 PM to 7:30 PM

PTO meeting

Calendar:

Schalm Calendar

20

Jan 20

1/2 Day for Students-Exams-11:30am dismissal

Calendar:

High School Calendar

CASA-No School-Records Day

Calendar:

High School Calendar

HALF DAY ALL Students

Calendar:

Schalm Calendar

HALF DAY AM for HS/MS - Exams in AM, Dismissal at 11:30AM; End of 1st Semester MS/HS

HALF DAY DK-5, Dismissal at 11:25AM; End of 2nd Marking Period

TLC Mtg

Calendar:

High School Calendar

Musical Practice-Auditorium-afterschool/eveing

Calendar:

High School Calendar

12:00 PM to 2:00 PM

Matilda Play Practice

Calendar:

High School Calendar

21

Jan 21

Musical Practice-Auditorium-afterschool/eveing

Calendar:

High School Calendar

10:00 AM to 4:00 PM

Robotics Club Mtg

Calendar:

High School Calendar

22

Jan 22

Musical Practice-Auditorium-afterschool/eveing

Calendar:

High School Calendar

10:00 AM to 6:00 PM

Matilda Play Practice

Calendar:

High School Calendar

23

Jan 23

Musical Practice-Auditorium-afterschool/eveing

Calendar:

High School Calendar

3:00 PM to 6:00 PM

Matilda Play Practice

Calendar:

High School Calendar

6:00 PM to 7:00 PM

Senior All Night Party Parent Planning Mtg

Calendar:

High School Calendar

6:00 PM to 8:00 PM

Robotics Club Mtg

Calendar:

High School Calendar

7:00 PM to 10:00 PM

Board Mtg

Calendar:

High School Calendar

24

Jan 24

Musical Practice-Auditorium-afterschool/eveing

Calendar:

High School Calendar

3:00 PM to 6:00 PM

Matilda Play Practice

Calendar:

High School Calendar

6:00 PM to 8:00 PM

Robotics Club Mtg

Calendar:

High School Calendar

25

Jan 25

Musical Practice-Auditorium-afterschool/eveing

Calendar:

High School Calendar

Seminar Day

Calendar:

High School Calendar

9:45 AM to 10:45 AM

CASA Presentation

Calendar:

High School Calendar

3:00 PM to 6:00 PM

Matilda Play Practice

Calendar:

High School Calendar

5:30 PM to 8:30 PM

Special Board Mtg/MS Media Center

Calendar:

High School Calendar

6:00 PM to 8:00 PM

Robotics Club Mtg

Calendar:

High School Calendar

26

Jan 26

OSTC-Career Night-Next Years Students

Calendar:

High School Calendar

Musical Performance-Auditorium

Calendar:

High School Calendar

5:00 PM to 7:00 PM

Matilda Call Time

Calendar:

High School Calendar

6:00 PM to 8:00 PM

Robotics Club Mtg

Calendar:

High School Calendar

7:00 PM to 9:00 PM

Matilda Performance

Calendar:

High School Calendar

27

Jan 27

Musical Performance-Auditorium

Calendar:

High School Calendar

Report Cards Viewable

Calendar:

Schalm Calendar

11:45 AM to 2:30 PM

Book Fair

Calendar:

Schalm Calendar

5:00 PM to 7:00 PM

Matilda Call Time

Calendar:

High School Calendar

7:00 PM to 9:00 PM

Matilda Performance

Calendar:

High School Calendar

28

Jan 28

Musical Performance-Auditorium

Calendar:

High School Calendar

1st Sem Grades viewable on Mistar

Calendar:

High School Calendar

10:00 AM to 4:00 PM

Robotics Club Mtg

Calendar:

High School Calendar

2:00 PM to 4:00 PM

Matilda Performance

Calendar:

High School Calendar

7:00 PM to 9:00 PM

Matilda Performance

Calendar:

High School Calendar

29
30

Jan 30

11:45 AM to 2:30 PM

book fair

Calendar:

Schalm Calendar

6:00 PM to 8:00 PM

Robotics Club Mtg

Calendar:

High School Calendar

31

Jan 31

11:45 AM to 2:30 PM

book fair

Calendar:

Schalm Calendar

5:00 PM to 9:00 PM

GBKB game @ Lake Shore

Calendar:

CHS Sports Calendar

6:00 PM to 8:00 PM

book fair evening

Calendar:

Schalm Calendar

6:00 PM to 8:00 PM

Robotics Club Mtg

Calendar:

High School Calendar
Upcoming Events

NO SCHOOL - Mid-Winter Recess

Calendar:

District Calendar