Our District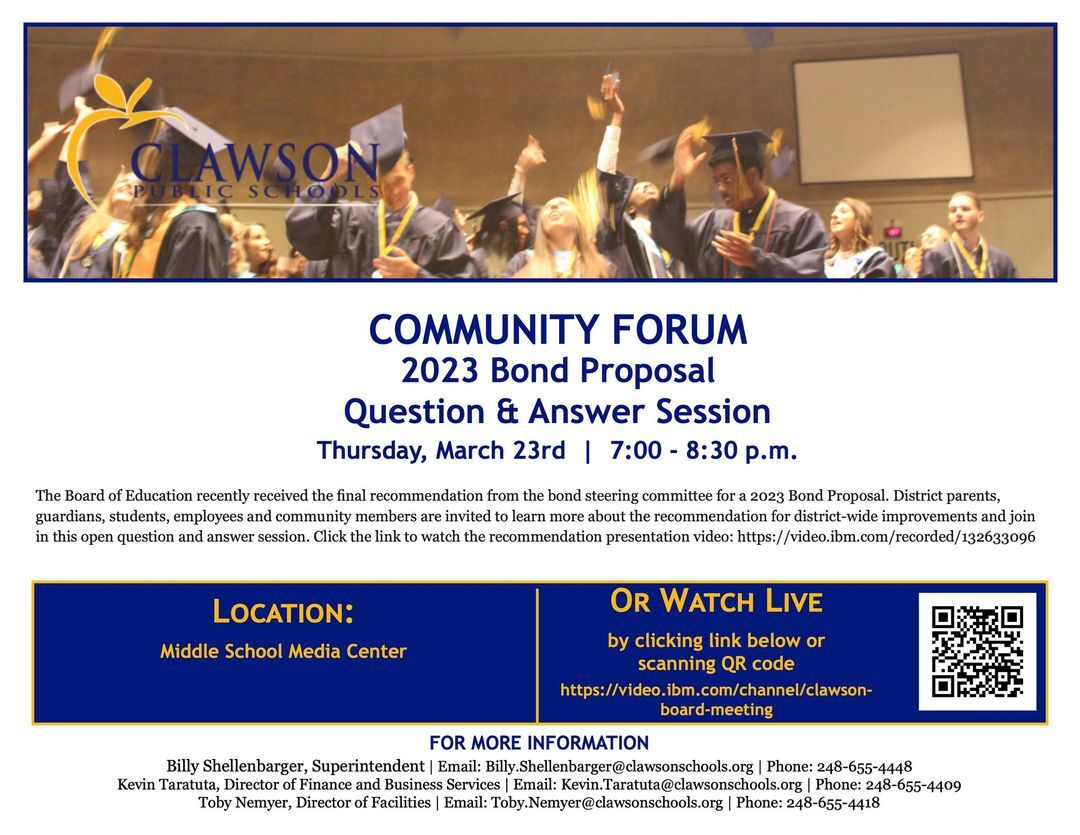 February 16, 2023
Alexandria Verner Donations
Many have asked about donations for our dear Alexandria Verner. Thanks to the work of some community members, they have set up a place to do that. If you are interested in donating to the Verner Family in honor of Al, please utilize the link below, which is a fund that will flow through Alliance Catholic Credit Union. Per the family, all donations will go toward scholarships for CHS graduates in Al's honor.
https://allianceccu.com/alexandriaverner/
February 15, 2023
Alexandria Verner - Funeral Arrangements
With the outpouring of support we have received regarding our beloved CPS student, Alexandria Verner, we wanted to share her viewing and funeral arrangements. See below for information:
Viewing: Friday, February 17th from 4pm to 9pm @ Guardian Angels Church (581 14 Mile Road, Clawson)
Funeral: Saturday, February 18th @ 11am @ Guardian Angels Church
We truly cannot thank everyone enough for the continued love and support of one of our own!
February 14, 2023
Sad News - Former CHS Student
August 1, 2022
New CHS/CMS Principal
Kimberly Olson has been named Principal of Clawson Middle and High Schools...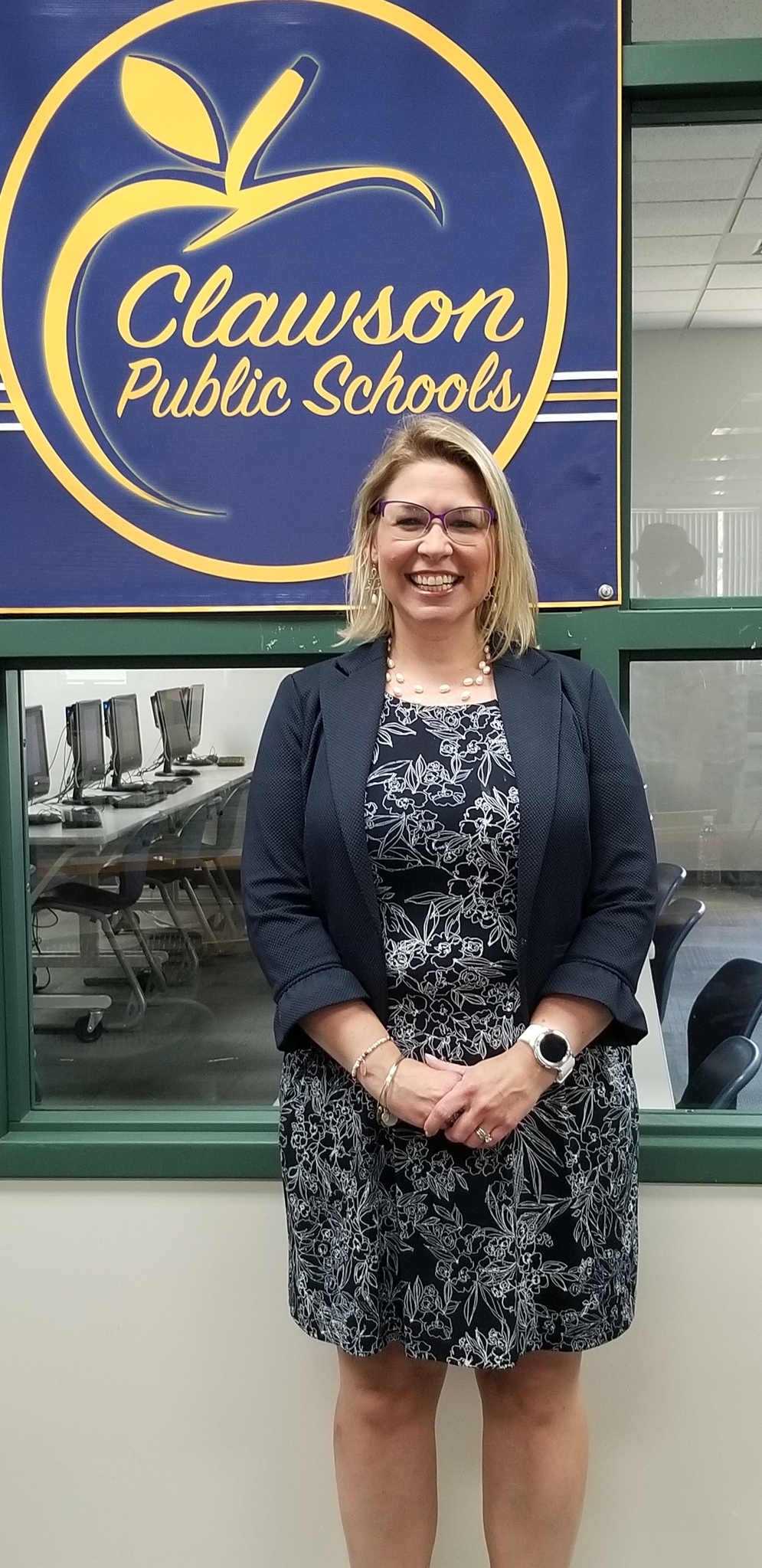 August 1, 2022
New Superintendent Billy Shellenbarger
Billy Shellenbarger, Principal of Clawson High School and Middle School, has been chosen to be Clawson Public School's new superintendent...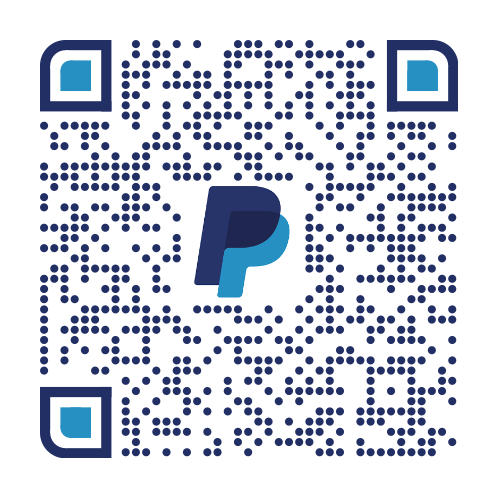 Welcome
Mission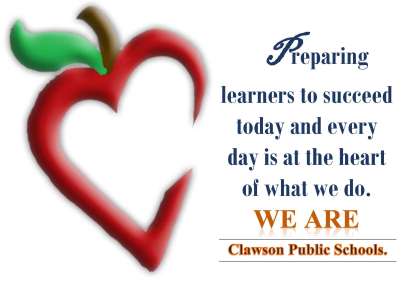 2023-2024 School of Choice for Transitional Kindergarten / Kindergarten
Clawson Public Schools is accepting School of Choice applications for Transitional Kindergarten and Kindergarten for the 2023-2024 school year. Unlimited applications will be accepted. Families must reside in an Oakland County School District to apply.
The 2023-2024 Transitional Kindergarten / Kindergarten
registration process for Clawson residents.
The 2022-2023 TK - 12th grade registration process for Clawson residents.
Click here for a list of the required documents needed for enrollment.

FOIA Requests
Please email FOIA Requests to: Linda Gould, FOIA Coordinator
Calendar

Previous

March

2023

Next

S
M
T
W
T
F
S
1

Mar 1

MS/HS Band Rehearsal Auditorium-1st-4th hrs

Calendar:

High School Calendar

Calendar:

High School Calendar

4:15 PM to 6:15 PM

Calendar:

CMS Sports Calendar

6:00 PM to 8:00 PM

Calendar:

High School Calendar

2

Mar 2

MS/HS Band Rehearsal Auditorium-1st-4th hrs

Calendar:

High School Calendar

12:30 PM to 3:30 PM

Calendar:

High School Calendar

4:15 PM to 6:15 PM

Calendar:

CMS Sports Calendar

6:00 PM to 7:00 PM

Calendar:

High School Calendar

6:00 PM to 8:00 PM

Calendar:

High School Calendar

7:00 PM to 9:00 PM

Calendar:

High School Calendar

3
4

Mar 4

9:00 AM to 10:00 AM

MS Orchestra Festival/Roseville MS

Calendar:

High School Calendar

10:00 AM to 4:00 PM

Calendar:

High School Calendar

2:00 PM to 3:00 PM

HS Orchestra Festival/Roseville MS

Calendar:

High School Calendar

5
6

Mar 6

Calendar:

High School Calendar

4:15 PM to 6:35 PM

HS Choir Festival @ Waterford K

Calendar:

High School Calendar

6:00 PM to 8:00 PM

Calendar:

High School Calendar

7:00 PM to 9:00 PM

Calendar:

High School Calendar

7:00 PM to 9:00 PM

Calendar:

High School Calendar

7

Mar 7

Calendar:

Schalm Calendar

No School - PD Day for Teachers

Calendar:

Schalm Calendar

No School - Students/Teacher PD

Calendar:

High School Calendar

NO SCHOOL- Staff Training

Calendar:

Childcare Center

Calendar:

High School Calendar

6:00 PM to 8:00 PM

Calendar:

High School Calendar

8

Mar 8

Calendar:

High School Calendar

6:00 PM to 8:00 PM

Calendar:

High School Calendar

9

Mar 9

CASA New Student Open House

Calendar:

High School Calendar

6:00 PM to 7:30 PM

Calendar:

Schalm Calendar

6:00 PM to 8:00 PM

Calendar:

High School Calendar

10

Mar 10

Red Cross Blood Drive/Student Senate

Calendar:

High School Calendar

11

Mar 11

9:00 AM to 11:00 AM

Calendar:

High School Calendar

10:00 AM to 4:00 PM

Calendar:

High School Calendar

11:00 AM to 1:00 PM

Location:

Rochester Adams High School, 3200 W Tienken Rd, Rochester Hills, MI 48306, USA

Calendar:

High School Calendar

12
13

Mar 13

6:00 PM to 8:00 PM

Calendar:

High School Calendar

7:30 PM to 9:30 PM

Spring Sports Parent Meeting - Meet the Coach

Calendar:

High School Calendar

14

Mar 14

6:00 PM to 8:00 PM

Calendar:

High School Calendar

15

Mar 15

Calendar:

High School Calendar

Calendar:

High School Calendar

9:45 AM to 10:45 AM

Calendar:

High School Calendar

12:30 PM to 1:30 PM

Calendar:

High School Calendar

12:30 PM to 3:30 PM

Calendar:

High School Calendar

6:00 PM to 8:00 PM

Calendar:

High School Calendar

6:30 PM to 7:30 PM

Calendar:

High School Calendar

7:00 PM to 9:00 PM

Performing Arts Booster Mtg

Calendar:

High School Calendar

16

Mar 16

5:00 PM to 7:00 PM

Calendar:

High School Calendar

6:00 PM to 8:00 PM

Calendar:

High School Calendar

6:30 PM to 7:30 PM

Calendar:

Schalm Calendar

17
18

Mar 18

9:00 AM to 11:00 AM

Calendar:

High School Calendar

10:00 AM to 4:00 PM

Calendar:

High School Calendar

19

Mar 19

1:00 PM to 8:00 PM

Calendar:

High School Calendar

20

Mar 20

6:00 PM to 8:00 PM

Calendar:

High School Calendar

7:00 PM to 10:00 PM

Calendar:

High School Calendar

21

Mar 21

6:30 AM to 7:30 AM

Location:

Clawson Middle School, Media Center

Calendar:

CMS Sports Calendar

6:00 PM to 7:00 PM

Calendar:

CMS Sports Calendar

6:00 PM to 8:00 PM

Calendar:

High School Calendar

7:00 PM to 8:00 PM

Calendar:

Schalm Calendar

22

Mar 22

NHS Induction Mtg/Seminar

Calendar:

High School Calendar

Calendar:

High School Calendar

Calendar:

High School Calendar

Calendar:

High School Calendar

6:00 PM to 8:00 PM

Calendar:

High School Calendar

6:30 PM to 8:30 PM

Winter Sports Awards Night

Calendar:

High School Calendar

23

Mar 23

Robotics Team Competition

Calendar:

High School Calendar

3:00 PM to 4:00 PM

Calendar:

High School Calendar

6:00 PM to 7:00 PM

6th grade information night

Calendar:

Schalm Calendar

6:00 PM to 7:00 PM

Future 6th grade orientation/Aud

Calendar:

High School Calendar

6:00 PM to 8:00 PM

CPS Bond - Community Forum/MS Media Center

Calendar:

High School Calendar

6:00 PM to 8:00 PM

Calendar:

High School Calendar

24

Mar 24

Robotics Team Competition

Calendar:

High School Calendar

1/2 Day for Students-10:55am dismissal-Mid Semester

Calendar:

High School Calendar

Calendar:

Schalm Calendar

11:25 AM

Calendar:

Schalm Calendar

4:00 PM to 8:00 PM

Calendar:

Schalm Calendar

25

Mar 25

Robotics Team Competition

Calendar:

High School Calendar

26
27

Mar 27

CASA-No School-Spring Break

Calendar:

High School Calendar

NO SCHOOL - Spring Recess

Calendar:

Schalm Calendar

No School Students/Staff-Spring Break

Calendar:

High School Calendar

OSTC-No School-Spring Break

Calendar:

High School Calendar

Calendar:

Schalm Calendar

6:00 PM to 8:00 PM

Calendar:

High School Calendar

28

Mar 28

CASA-No School-Spring Break

Calendar:

High School Calendar

NO SCHOOL - Spring Recess

Calendar:

Schalm Calendar

No School Students/Staff-Spring Break

Calendar:

High School Calendar

OSTC-No School-Spring Break

Calendar:

High School Calendar

Calendar:

Schalm Calendar

6:00 PM to 8:00 PM

Calendar:

High School Calendar

29

Mar 29

CASA-No School-Spring Break

Calendar:

High School Calendar

NO SCHOOL - Spring Recess

Calendar:

Schalm Calendar

No School Students/Staff-Spring Break

Calendar:

High School Calendar

OSTC-No School-Spring Break

Calendar:

High School Calendar

Calendar:

Schalm Calendar

6:00 PM to 8:00 PM

Calendar:

High School Calendar

30

Mar 30

CASA-No School-Spring Break

Calendar:

High School Calendar

NO SCHOOL - Spring Recess

Calendar:

Schalm Calendar

No School Students/Staff-Spring Break

Calendar:

High School Calendar

OSTC-No School-Spring Break

Calendar:

High School Calendar

Calendar:

Schalm Calendar

Robotics Competition/Macomb Comm College

Calendar:

High School Calendar

6:00 PM to 8:00 PM

Calendar:

High School Calendar

31

Mar 31

CASA-No School-Spring Break

Calendar:

High School Calendar

NO SCHOOL - Spring Recess

Calendar:

Schalm Calendar

No School Students/Staff-Spring Break

Calendar:

High School Calendar

OSTC-No School-Spring Break

Calendar:

High School Calendar

Calendar:

Schalm Calendar

Robotics Competition/Macomb Comm College

Calendar:

High School Calendar
Upcoming Events

NO SCHOOL - Spring Recess

Calendar:

District Calendar

Calendar:

District Calendar

Calendar:

District Calendar

Calendar:

District Calendar

Testing:

Grade 8: Full Day

Grade 9: 7:45AM-12:00PM

Grade 11: 7:45AM-1:30PM

Grades 6, 7, 10 & 12: Full Day SYNCHRONOUS LEARNING

DK-5: Full Day of School

Calendar:

District Calendar

Testing:

Grades 10 & 11: 7:45AM-12:00PM

Grades 9 & 12: Full Day SYNCHRONOUS LEARNING

DK-8: Full Day of School

Elementary Parent-Teacher Conferences - Evening

Calendar:

District Calendar

Elementary Parent Teacher Conferences - Evening

Elementary, HS & MS Parent-Teacher Conferences - Evening

Calendar:

District Calendar

Elementary, HS, & MS Parent-Teacher Conferences - Evening