Parent-Child Orientation for Incoming 6th Graders
To help familiarize you with Clawson Middle School, we cordially invite 5th-grade students and parents to the Parent-Child CMS Orientation on Wednesday, March 22nd. The program will be as follows:
After school is dismissed at Schalm and Kenwood, students will walk on their own or with their parents to or be dropped off by parents at the middle school to arrive for the program beginning by 3:45.
The orientation for students only will begin in the middle school cafeteria, where they will be welcomed and then divided into groups led by National Junior Honor Society and Student Council members.
In their groups, fifth-graders will visit classrooms, learn about becoming a 6th grader at CMS, practice opening combination locks, have a snack, and take a tour of the building.
Parents should plan to arrive in the high school auditorium by 5:00. Your child will join you for the parent and child portion of the orientation.
Upon completion of the program, your child can take you on a tour of the building.
Your child received a permission slip to bring home. Please turn it in by March 15th. If you need another copy you may click on this link: Orientation Letter-Permission Slip 2017
We are looking forward to the opportunity to meet you and answer any questions that you may have. If you have further questions regarding this event, please call Dr. Schihl at 655-4250, or Mrs. Reaume at 655-4255.
Dentists R Us Coming to CMS on March 23, 2017
Licensed dentists and dental hygienists will be available at Clawson Middle School on March 23, 2017, to perform comprehensive dental exams, prophylaxis (dental cleaning), fluoride treatments, x-rays (if needed), and sealants (when necessary). If you would like your child to be seen by the dentist and hygienist, completely fill out the Dentists R Us permission slip that was sent home with your child on March 1st, and return it to the Clawson Middle School Counseling Center. If you need another permission slip, you may click on this link: Dentists R Us 3-23-17 or pick one up in the counseling center.
Please note: Students who had a cleaning within the 6 months leading up to March 23, 2017, are NOT eligible.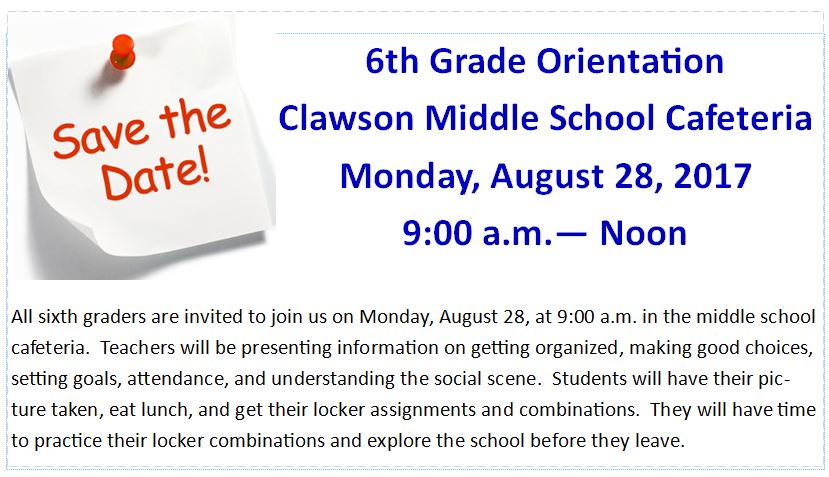 Peer Tutors
If you need some help in one or more of your classes, the first thing you should do is talk to your teacher. You may also want to sign up for a Peer Tutor. We will match you up with another student who is doing well in the class to help you. Then at lunch time, 2 or 3 days a week, you and your tutor will bring your lunches and school work to the counseling center. We have small quiet rooms that you can use to work and eat together. Peer Tutor sign up forms are available in the counseling center or click here to print one: I Need a Tutor sign up form
Scholars Club
Scholars Club is for students who need to work on assignments, study for an upcoming test, or get help with their work. There are two teachers available to assist you if needed. Scholars Club meets most Tuesdays, Wednesday, and Thursdays, from 2:45 p.m. - 4:15 p.m. in CMS Lab 110. In order to maintain an on-task, academic learning environment, students and parent/guardians must agree on the Scholars Club rules. The rules must be signed prior to a student's second visit to Scholars Club. The rules are available in the counseling center or you can click here to print a copy: Scholars Club Rules and Expectations
Groups and Other Opportunites
Mrs. Reaume runs groups for students at different times during the school year. They each meet once per week for six weeks. Groups that may be offered are Grief and Loss, Changing Families/Divorce, Anger Management, Girls Empowered, Take 5, and Boyz 2 Men. Click on the following link for a sign-up sheet that includes descriptions of each group plus information on other opportunities at CMS: CMS Groups and Opportunities
Report Card Information
Report cards for the 2016-2017 school year will be distributed as follows:
1st Marking Period: Mailed on November 11, 2016
2nd Marking Period: Available on Parent Portal and Student Connect beginning January 28, 2017
3rd Marking Period: Available on Parent Portal and Student Connect beginning April 17, 2017
4th Marking Period: Available on Parent Portal and Student Connect beginning June 21, 2017
If you need your username and/or password for Parent Portal, contact Jill LaPine at 248.655.4417.